In our analysis of SaaS activities in Southeast Asia, we turned our attention to the largest cloud companies and their workforce. We looked at the top 44 listed Cloud companies, as monitored by the BVP Cloud Index, and compared their workforce (using LinkedIn) in the different countries of the region.
As one would expect, the region is still a small part of their team, overall representing only 3% of their total workforce. However, dismissing it based on this data point only would be ignoring that several of them are building significant teams in the region.
What did we find?
Overall, it's 3,000+ people working with the top SaaS companies in Southeast Asia. That's good news for the ecosystem has it means lots of people experienced working with the best companies. (for those on head hunting mode, if we consider average time in a job to be 2 years, it's more than 100 people changing companies every months, which can join another SaaS company 🙂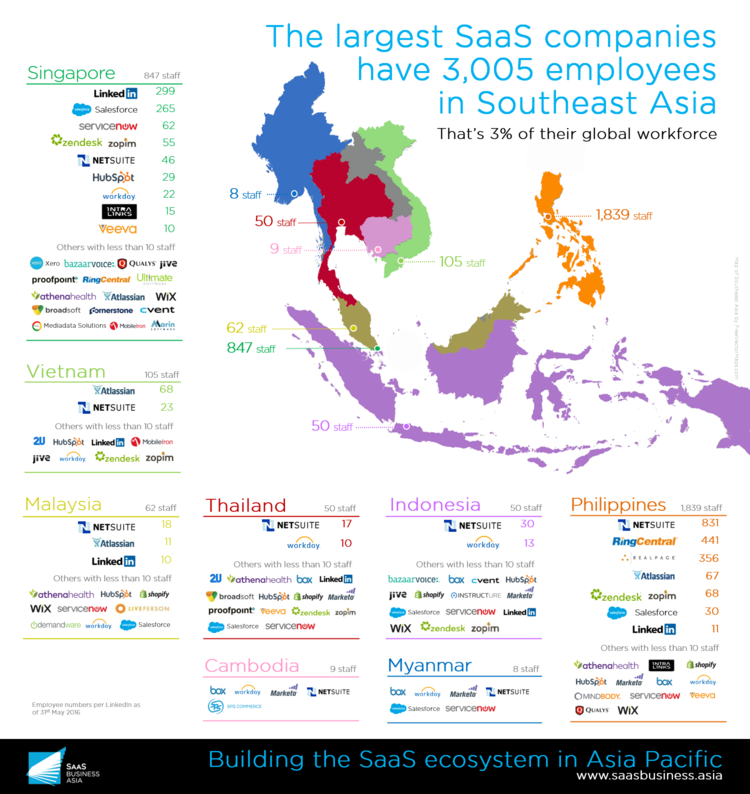 10 companies have 20 staff or more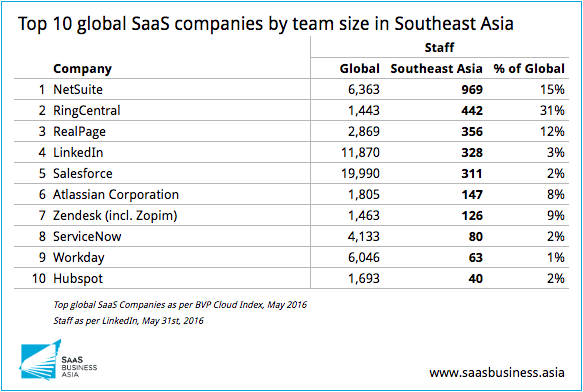 Netsuite has the largest workforce in the region, with close to 1,000, including 800+ in the Philippines
5 have more than 5% of their global workforce in the region
9 of the 44 companies have no staff in the region. That's 20% of the group 🙁
We will be sharing more of this research about top global SaaS companies in the coming weeks. 
What would you like to know about them and their presence in Southeast Asia?
This article was initially published on SaaS Business Asia dedicated website. The SaaS Business Asia site was closed in 2019 and moved to Future Flow.