Since we started SaaS Business Asia we did quite a lot of deep dive research to fully understand the ecosystem and share our findings with you. After mapping SaaS businesses in South East Asia, we have now prepared the mapping of investments in SaaS businesses in the region, focusing on the 10 most active investors in SaaS. 
… ready to find out who they are?
… drum roll …
… there we go: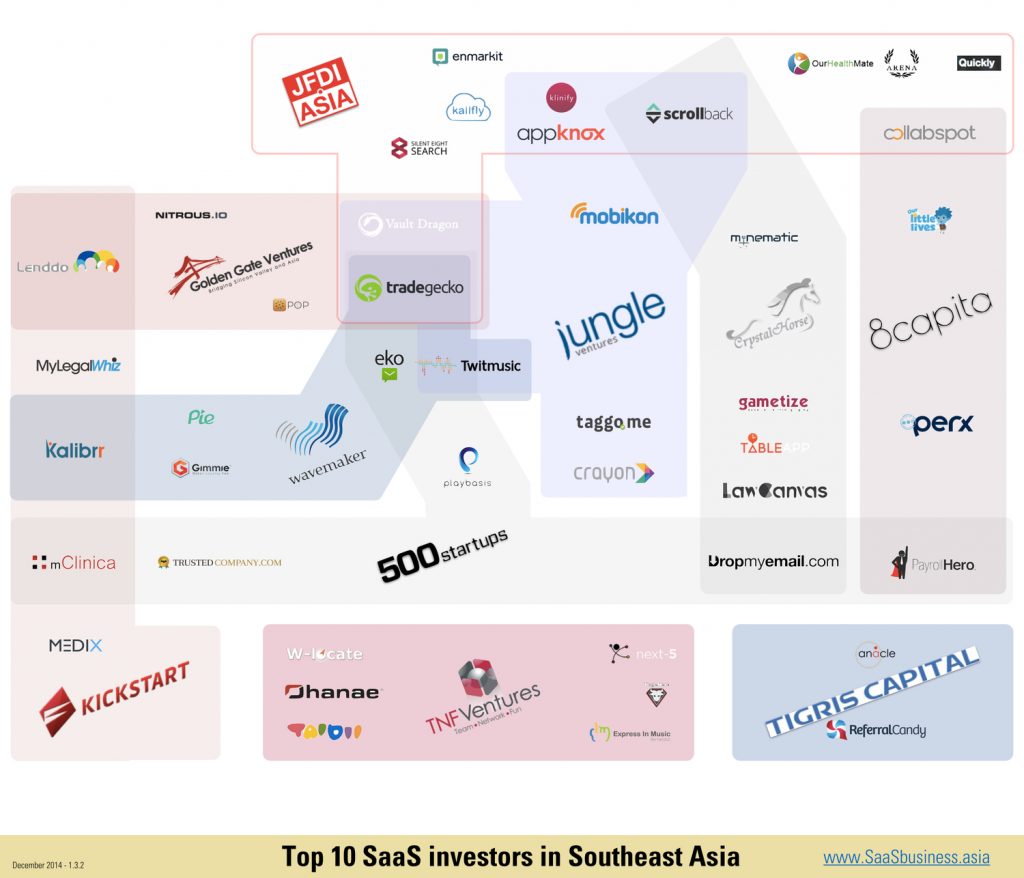 The top 10 investors for SaaS (each invested in at least 2 SaaS companies) we found are:
JFDI.asia – Running customer development programs and acceleration bootcamps, JFDI.asia launched 12 SaaS companies since 2012 (that's around 30% of their total portfolio) with a majority of them raising follow on funding.
Jungle Ventures –  With investments in Twitmusic, Crayon Data, Taggo.me, Mobikon, Klinify, appknox, Vault Dragon and Tradegecko, Jungle has SaaS companies at different stages and in a wide range of target markets.
500 Startups – Not a month goes without a new investment in Asia by 500 Startups, and that includes many SaaS companies, often co-investing with another local investor.
Crystal Horse – Since its winning investment in Dropmyemail following Angel's Gate in 2012, Crystal Horse went on to bet on 5 others SaaS, going from legal templates LawCanvas to gamification platform Gametize.
TNF Ventures – The diverse and unique portfolio of TNF includes several b2b products. 
Kickstart Ventures – Backed by Globe, Kickstart acts as a backbone for the Philippines startup ecosystem, and backs several SaaS companies which got co-invested by other regional investors.
Wavemaker – First to back TradeGecko, Wavemaker is also believing in Pieter Walraven's vision of a better business messaging app Pie and Philippines based Kalibrr as well as loyalty specialist Gimmie.
Golden Gate Ventures – Banking the unbanked (Lenddo), turning paper drawing into prototypes (Pop), competing with Amazon AWS (Nitrous.io), making a Dropbox for physical stuffs (Vault Dragon) and making supply chain management sexy (TradeGecko) are some of the bets made by Golden Gate.
8Capita – With Payroll Hero and Perx, 8Capita is present in whenever one go for lunch (Payroll Hero helping F&B chains managing their staffs, Perx providing loyalty schemes). It can also take care of your kids (Little Lives managing kindergardens) or your CRM (Collabspot bringing it to your Gmail).
Tigris Capital – Invested in energy management Anacle and referral schemes provider Referral Candy (see our interview with founder Dinesh Raju)
The interconnection of investors is significant with 25% (12 companies out of 45) of the SaaS companies being invested by more than one investor.
The darling of investors is currently TradeGecko, the inventory management system started by New Zealanders and brothers Cameron and Bradley Priest, who brought together no less than 5 of these top 10 investors: JFDI.asia who incubated them during its first bootcamp in 2012, Wavemaker who was the first to back them, as well as Jungle Ventures, Golden Gate Ventures and 500 Startups.
Updates
– Dec 20: ScrollBack counts both JFDI.asia, Crystal Horse and Jungle Ventures as investors. The layout is now reflecting it.
– Dec 24: Eko is added as a co-investment between Wavemaker and 500 Startups. Twitmusic as a co-investment between 500 Startups, Jungle and Wavemaker.
This article was initially published on SaaS Business Asia dedicated website. The SaaS Business Asia site was closed in 2019 and moved to Future Flow.