Mostly known for its 7,107 islands, its coconuts and (unfortunately) for its terrible traffic jams, the Philippines are also home to a few growing SaaS companies.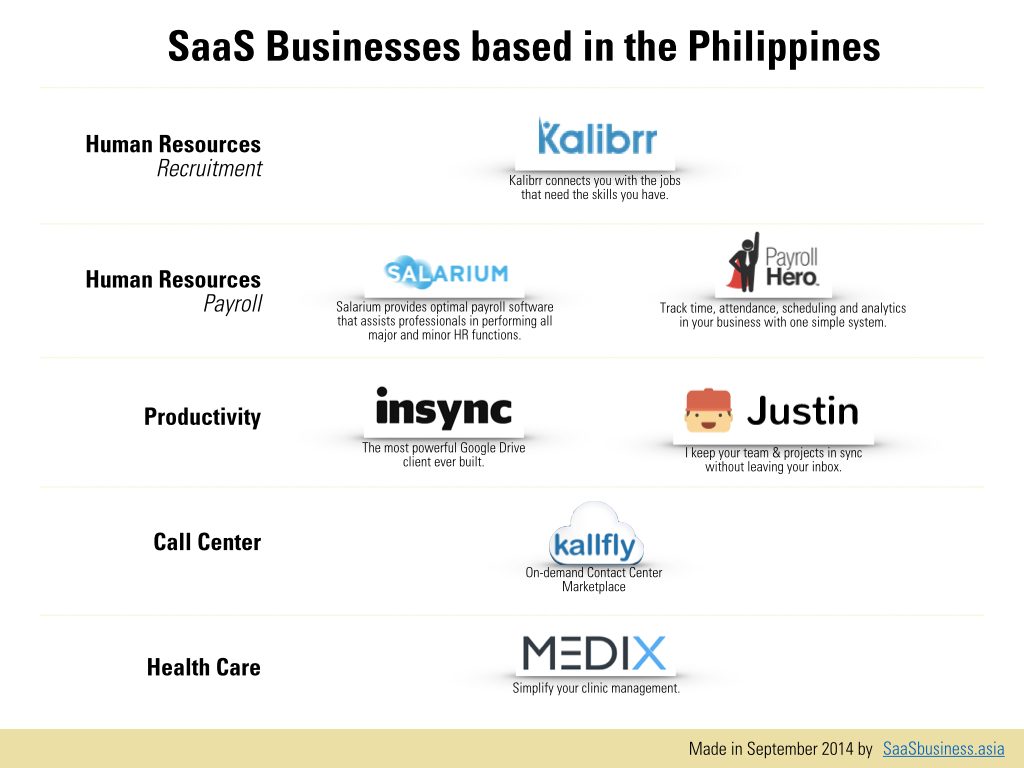 insync, founded by Terence Pua, is the solution for anyone using Google Drive with several accounts. The company counts Neotony (also investor in Viki, which Rakuten acquired for $200m in 2013) among its investors. The company recently released Justin is another productivity app started by insync.
Kallfly got incubated in Singapore based accelerator JFDI.asia. The company helps businesses to set up and operates call centers much more efficiently.
Medix was started through Jay Fajardo's LaunchGarage and Christian Besler's KickStart (also famous for its #RaidTheFridge).
Kalibrr, founded by ex-Googler Paul Riviera, is the first Philippines startup to have joined Y combinator, in 2013. It then raised $1.9m from Omidyar Network and others investors. Its "hacker home", ie a villa in which employees can work and live, is listed among the best perks offered by Philippines startups.
Payroll Hero, founded by Canadian Stephen Jagger, helps F&B chains such as The Coffee Bean and Tea Leaf, Krispy Creme, Subway to increase productivity of their staff. It raised  US$1m in Feb 2013 from 500Startups, LX Ventures, Futura, 8capita and others. Eric Ries himself, the "inventor" of Lean startup, is part of the board of advisors.
Salarium offers a full payroll solution.
This article was initially published on SaaS Business Asia dedicated website. The SaaS Business Asia site was closed in 2019 and moved to Future Flow.