Always looking for more SaaS, we're starting 2015 with an updated Map of SaaS… now counting 107 businesses!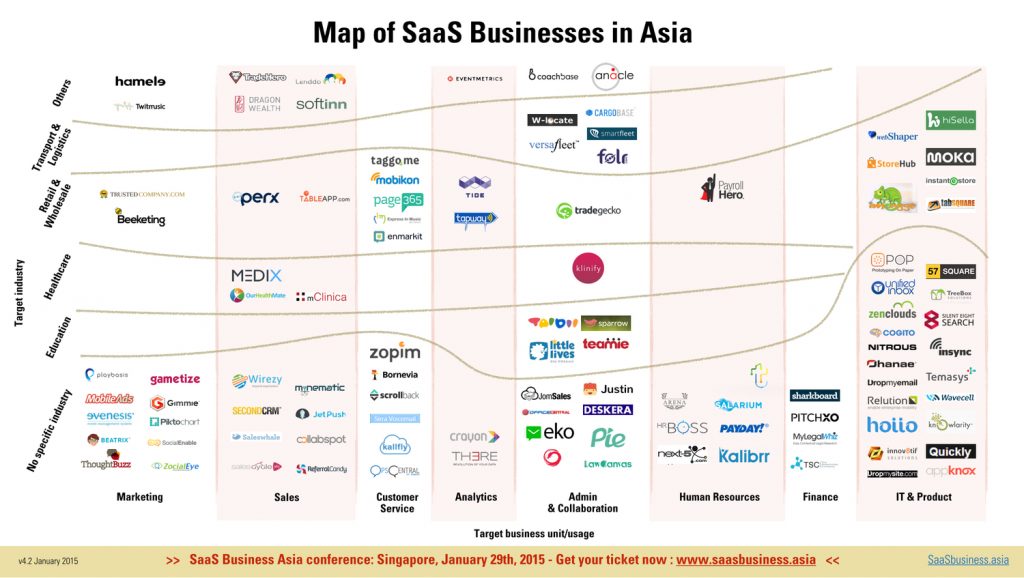 On top of Singapore, Philippines and Malaysia for which we added more than 10 companies to the 70+ previously identified, we uncovered SaaS businesses in neighbouring countries:
This month's map classifies these 107 companies by their target industry (the "vertical": retail, healthcare…) and target market / business unit (marketing, sales, …), inspired by categories and industries available in Salesforce App Exchange and the famous Sequoia' Mobile Tectonic. Such mapping should lead to business opportunities for those finding patterns and understanding the white spots as well as specific industries. Of course, looking at just Southeast Asian SaaS is irrelevant for some of the spots: if there is no local specificity, the competition is global, with softwares just 1 click away, somewhere in the cloud.
Most SaaS in the region are not targeting a specific industry, instead providing services which can be used by companies whichever activity they are into.
The shiny spots with several players on a similar concept:

POS and online store platforms count not less than 7 regional players
Logistics attracted 4 players already to manage fleets of vehicles, air freight and localisation of people/assets
CRM continues to attract new players to develop a new flavour… giving us 4 products developed in the region
Companies in need of social media help have 4 regional products to choose from
Improving the way schools and education is managed attracted 4 companies
Who does not like to play? We have 3 companies focusing on gamification

On the other side, we find several white spots… opportunities waiting to be tapped?

While finance and real estate are businesses through which many build fortunes in the region, they are not getting their share of dedicated SaaS (yet?)
Professional services, non profits and government are not targeted neither
Few companies are targeting the Big Data space (Analytics) or even providing tools to support financial functions
While outside of Asia, I can name Asana, Todoist, Any.Do, Wunderlist and Flow in no time, as well as Trello, JIRA, Redbooth for those preferring the kanban layout, we found no similar products in the region. Is there a need for an Asian flavoured to-do?
It's time to stare at the map and find other patterns yourself now.
This article was initially published on SaaS Business Asia dedicated website. The SaaS Business Asia site was closed in 2019 and moved to Future Flow.