Do you want to access a century of experience with SaaS?
There you go, with our favourite entrepreneurs and investors sharing their thoughts and knowledge. Bookmark them as we did. 
SaaStr: learnings from a $100m+ ARR SaaS founder
Started by Jason M. Lemkin in 2012, SaaStr is said to be "perhaps the largest web community of SaaS founders and entrepreneurs, with over 500k views per month". As the founder of EchoSign, Jason M. Lemkin has the experience of growing a SaaS business from 0 to $100m ARR.
SaaStr covers a wide range of topics: SaaS metrics, hiring strategies, execution tips at different stage of a company and valuations.
Recent articles include What to Do If You Business Decelerates and What the Second Time SaaS CEOs are All Doing  
Tom Tunguz: benchmarking SaaS businesses
On his blog,  Tom Tunguz, VC at Redpoint Venturesreviews SaaS companies IPO filings, providing amazingly useful insights into the growth of comparable businesses.  If you wonder what should be your revenues growth 5 years after founding (answer: $10-70m) or how efficient a sales team should be, go through the IPO's S-1 analysis and the benchmarks.
Recently, Tom covered Tableau's IPO and the acquisition of Concur by SAP.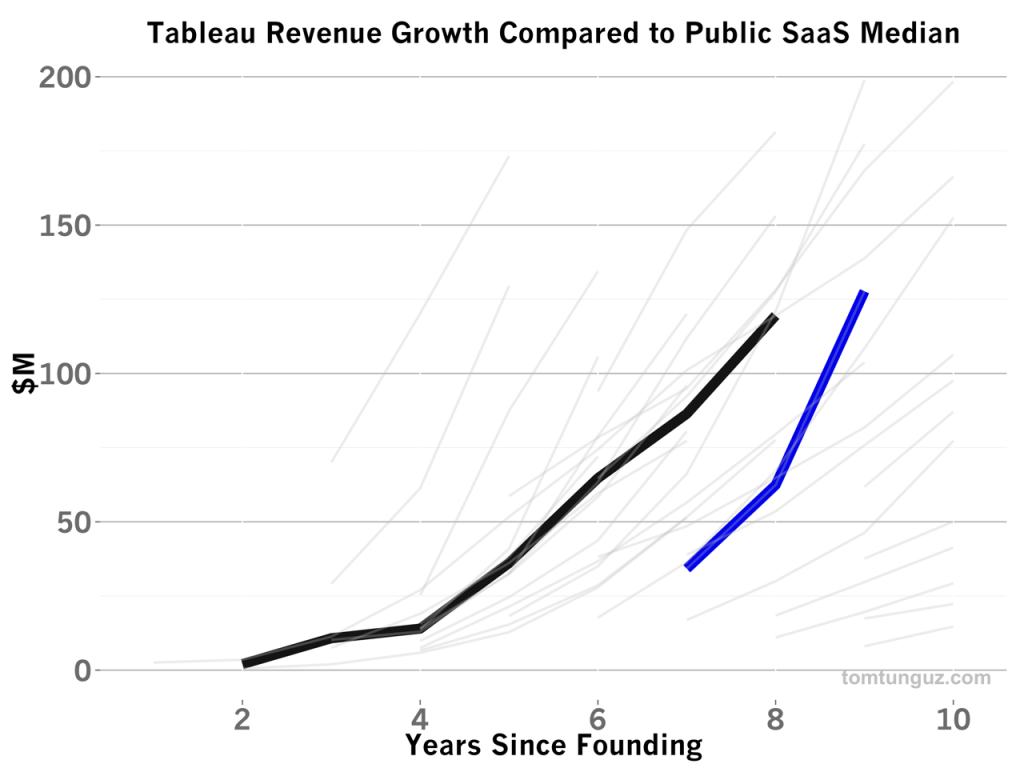 Bessemer Venture Partners: Monitoring listed SaaS companies
An investor in dozens of SaaS companies such as Box, Shopify and Twilio, Bessemer has one of the best understanding of SaaS around.
In its Cloud Index, by Kristina Shen and Byron Deeter, it's 38 listed companies which are monitored for market performance and operational metrics. Looking at it, one will learn that listed SaaS companies:
– have market cap from $300m to $37bn (Salesforce).
– have revenues from $13m to $4bn
– median gross margins of 71%
David Cumming: the experience of dozens of startups, in one place
David writes at davidcummings.org about growth, the role of the CEO and raising funds, among other topics SaaS entrepreneurs will love.
As a co-founder of B2B marketing automation Pardot, acquired by ExactTarget within 5 years at around $100m, David has valuable experiences to share.
His experience of SaaS is still growing, with investments in a dozen companies such as Cloud integrator Kevy, Community Engagement platform NinjaPost or Quality lead building Salesloft.
A16Z (Andreessen Horowitz): recipes for SaaS to eat the world
Christoph Janz: The Angel VC from Point Nine Capital will help you monitor your business
This article was initially published on SaaS Business Asia dedicated website. The SaaS Business Asia site was closed in 2019 and moved to Future Flow.