Ask any SaaS business in Singapore about Product Management and they'll tell you it ain't easy: from structuring the process, to hiring a Product Manager (PM) to building a great product. That is the reason why we brought together the SaaS Business Asia community on May 12th over some glasses of wine and coconut shakes at Sequoia's office: to tackle the topic and exchange best practices. 
With a lineup of speakers from Zendesk, TradeGecko, ViSenze and Hubspot, and a great audience mix of SaaS and non-SaaS Product Managers, as well as SaaS founders and managers, we went behind the curtains of the Product Management role.
Here are the main 3 myths on Product Management busted during the meetup:
Myth #1: A Product Manager needs a Computer Science background
With 10 years of experience in Product Management, Graham Kennedy, Head of Product at TradeGecko, says the best PMs he's seen had backgrounds in philosophy, music or they didn't even have degrees. "As a PM you own the why and what, the how belongs to the engineers and designers. So you don't require a computer science degree." He admits though that while PMs don't need to go to code level, they do need to be able to understand conversations between engineers and designers, and therefore his early days in programming did help a bit.
This is pretty much in line with how things are run at Hubspot. Danielle Greco, Product Manager at Hubspot's Headquarters in Boston, says that the product is co-owned by the PM and the Tech Lead, and together they manage a team of engineers and designers. "The PM owns the problem, and the Tech Lead owns the solution." As a matter of fact, her background prior to the PM role was in Content Marketing, and that didn't stop her from becoming a great Product Manager once she set her mind to it. The transition was smooth though thanks to a special program that is gaining popularity in the US: a well-organised training as Assistant Product Manager (APM).
Jeremy Seow, Product Manager at Zendesk, also comes from a non-CS background. More precisely, his previous role was in Sales, for the same company. But by managing to have an appreciation for CS concepts and how engineers talk, he had no issues gaining trust as a PM. 
Even a PM with a deep technical background agrees that a PM doesn't need a Computer Science background. Ruixin Xu, currently Product Manager at ViSenze and previously Program Manager at Microsoft, says that because of her engineering background, sometimes she gets too deep into details, only to realise she needs to re-focus on the bigger picture. And while her background allows her to have great communication with the engineering teams, she had to put on an effort to understand the business teams too.
Myth #2: Product roadmaps should be defined quarterly
Not really. It seems like the real product roadmap is only accurate for 4-6 weeks ahead, but in some cases a 6 month roadmap is needed.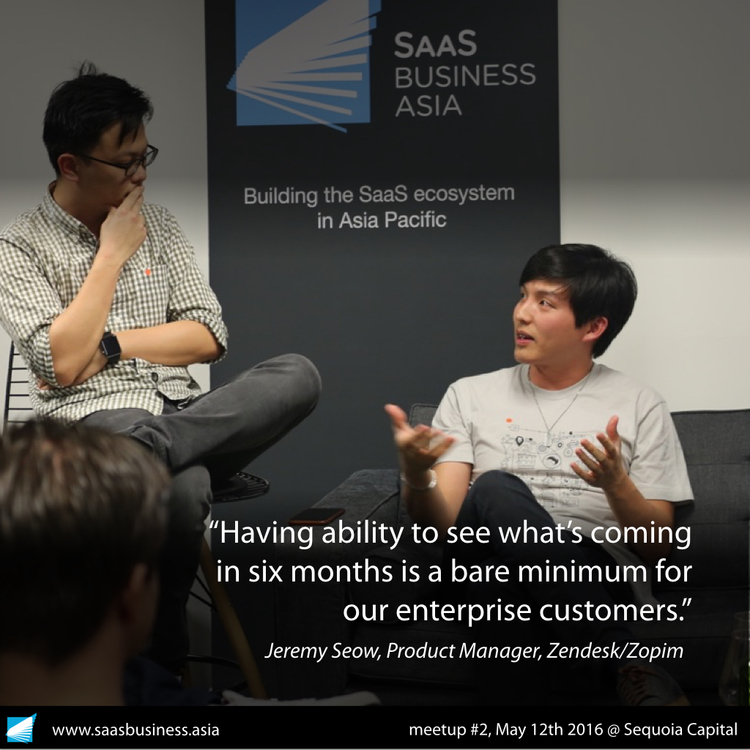 At Hubspot, although the company is on the market for 10 years and it IPO-ed in 2014, apparently "change is the only constant". Danielle says that the PMs there optimise for speed and that product roadmaps are well defined for only 6 weeks ahead. 
The startups PMs from ViSenze and TradeGecko guarantee their roadmap planning accuracy for even less time: about 1 month. Ruixin says she does planning quarterly, but "the real plan is only for 1 month as things keep on changing". Graham plans "as short as he can get away with", which usually also translates into 1 month: "4 weeks planning is pretty stable". 
And while both ViSenze and Zendesk (at least for the Zendesk Message product that Jeremy is working on) target Enterprise customers, there seems to be a big difference in the roadmap approach. Jeremy says that "Enterprise customers are demanding in terms of roadmap planning, so the ability to see what's coming in 6 months is needed." 
Myth #3: With usually short product roadmap planning, it is difficult to align with other teams
Luckily, that's false too.
Managing expectations (internally and externally) and negotiating on backlog prioritisation seem to be a core part of a Product Manager role. 
Graham seems to go very lean in his approach at TradeGecko. He defines assumptions, hypothesis, and success metrics and checks them every few weeks: "If you prove something in 2 weeks, then more in 4 weeks, you can gain more resources. And as you gather more data and validation points, you show you are onto something. This is a much better approach than asking for resources just to come back to the CEO and other teams in 3 months."
The most surprising approach came from Danielle. As Hubspot optimises for speed while having a considerable high number of employees, they realised that trying to align through updates is a overrated. Instead, they manage to align different teams by simply having them share the sale goals, all rowing in the same direction. But even this comes with a twist: their teams' KPIs are not about how the company should perform, but about how what they do should impact the KPIs of their customers – like, for example, increasing the number of leads their customers generate by x%. 
This article was initially published on SaaS Business Asia dedicated website. The SaaS Business Asia site was closed in 2019 and moved to Future Flow.