From website and email backups to call centre platform, we identified 16 additional SaaS businesses in Singapore, now bringing the total to 42. The first published version of the map was including 26 companies.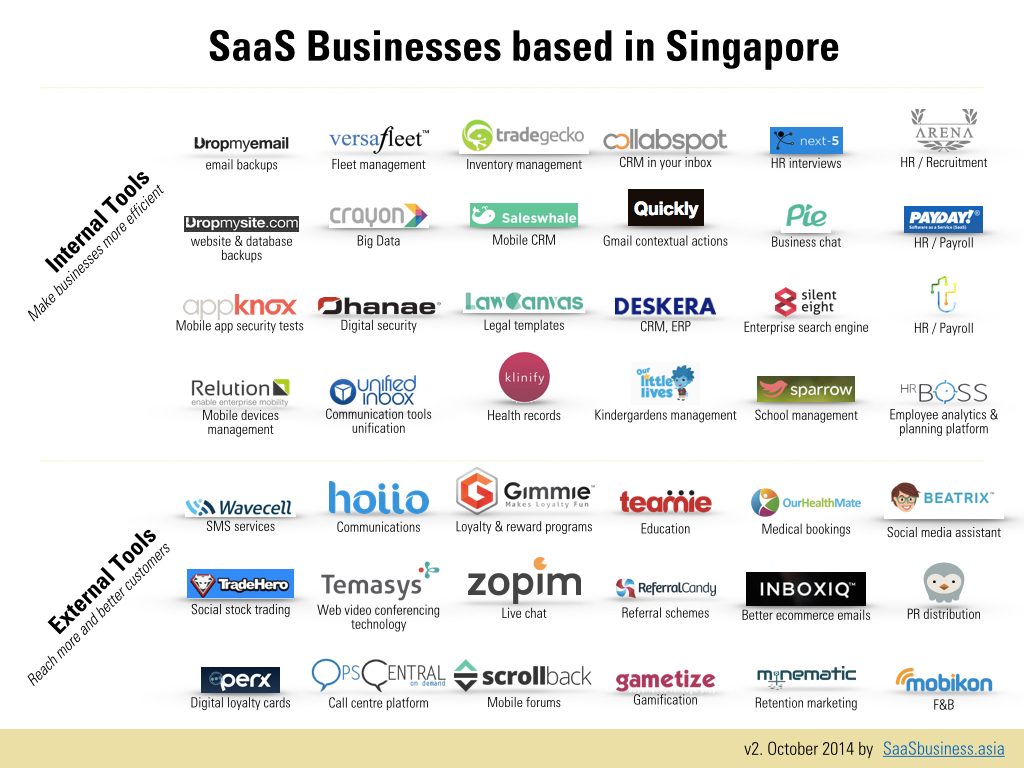 Ohanae offers security solutions, such as password management and data encryption. Founded by Greg Hauw.
Next-5 is a recruitment portal, which focuses on the interview part of the process and selection through social media referrals. Founded by Daryl Low.
TradeHero makes stock trading social, allowing traders to follow and learn from each others. Founded by Dinesh Bhatia.
Perx is the digital loyalty program of choice for dozens of restaurants, such as Singapore chain Salad Stop. Co-founded by Andrew Roth.
Saleswhale believes that "people do business with people" and provides a CRM with this belief in mind. Founded by Gabriel Lim.
Unified Inbox wants to end the fragmentation of communications. It brings all messages together and making it easy to contact people on the best channel to contact them, at any point in time. Founded by Toby Ruckert.
Temasys is developing the webRTC (web Real-Time Communications) technology platform to allow any web and mobile site to include live video conferencing as easily as the integration of Google Analytics. Try it on getaroom.io, it's awesome. Founded by Chip Wilcox.
appknox makes testing the security of a mobile app part of the development process. The team is experienced in finding security issues, being listed as white hackers by Facebook. Founded by Harshit Agarwal, Subho Halder and Prateek Panda. 
Dropmysite does what its name says: backup a website and database in a few clicks. Founded by John Fearon.
Dropmyemail, another creation by John Fearon backups emails to avoid data loss in case of hack (and it claims 1 out 5 email accounts get hacked at some point)
Sparrow is a complete solution for schools to manage their activities and communications between teachers, students and parents. Founded by Ryan Laubscher.
HRboss is an employee analytics and planning platform. Founded by Bernie Schiemer.
InboxIQ is the new brainchild from Jon Yongfook (Beatrix, PitchPigeon) to improve e-commerce emailing.
Wavecell powers transactional SMSes through its powerful, reliable API giving access to 900+ mobile networks in 220+ countries. Yes, that's 4 billion people available in an API call. Founded by Olivier Gerhardt, Olivier Magaud and Lee Smith.
Relution "enables enterprise mobility" through its device management dashboard.
OpsCentral has more than 10 years of experience with "contact centre solutions and customer interaction systems" (think: hotlines and call centres), providing is as a SaaS since 2008.
This article was initially published on SaaS Business Asia dedicated website. The SaaS Business Asia site was closed in 2019 and moved to Future Flow.